Tragic Story with Happy Ending
A short animation film by Regina Pessoa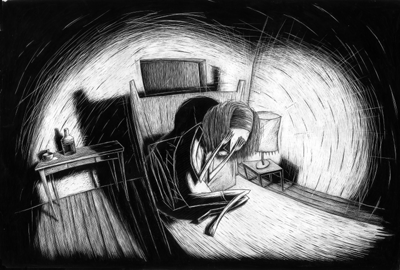 The stories I like to tell are always simple ones, about people I've known.  Some are still alive, others dead. They have had anonymous lives which have been somewhat ignored. They have gone unnoticed by the world and have been rapidly forgotten. I am interested in the mysteries, the little dramas and the poetry hidden in their apparently banal lives. They are my heroes and role models.
The ideas for this film came from an engraving and silk screen print I was working on when I was studying at the Fine Arts School. Each phrase inspired an engraving and each image suggested a new phrase and thus new technical and aesthetic challenges emerged. A long production process followed ...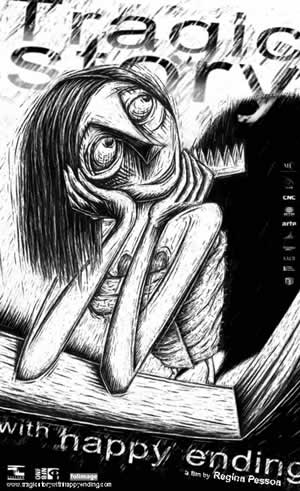 Seguimos uma menina e descobrimos que ela não é igual às outras pessoas, é "diferente". O traço que a faz diferir não só incomoda a comunidade a que pertence, como se traduz por um profundo sofrimento individual. A comunidade e a menina reagem à diferença, a primeira manifestando a sua intolerância, a segunda isolando-se. We are following a girl and we discover that she is not the same as other people. She is "different". The cause of her difference does not bother the community in which she lives as her suffering is of a very individual nature. The community and the girl react to the difference, the former by showing their intolerance, the latter by isolating herself. With time the community finally and rather coldly gets used to the presence of the difference, keeping it at a distance, but at the same time allowing it to become part of the daily bustle of their lives.
Differences exist, persist and are ever present. Some times there is a reason for their existence and they correspond to temporary states of transit to other states of existence, other times they are fatal ... Nevertheless, those who live them must accept them in order to achieve a deeper knowledge of themselves and a better awareness of the world.
One day she will go away and leave the community which will understand, albeit too late, that that strange character they had always kept at a distance had ended up by mysteriously becoming part of their lives ...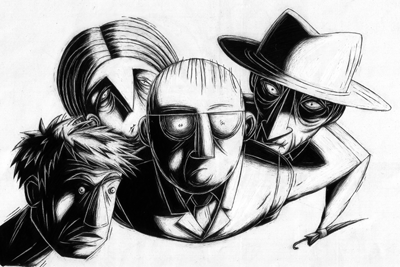 Animated Flip Books : click on the pictures to see the animation